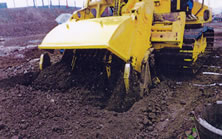 Our company corresponds broadly from the manufacture of a large-sized stabilizer which is performing design of various construction machines (mainly foundation improvement construction relation), manufacture, and sale to manufacture of the attachment of an oil pressure shovel etc. Moreover, taking advantage of experience engaged in development of a foundation improvement machine for years, I established the section of foundation improvement construction.
various improvement machines of original development — using it — low cost — highness — quality construction is realized Especially in surface improvement construction, in the amount of processings per day, the group is extracted and it is greatly contributing to shortening of the time necessary for completion. Since machine manufacture and construction construction correspond promptly, please ask freely.

Bucket Mixing BM10 BM07 BM04 BM025
The economical efficiency by highly efficient foundation improvement machine original position mixture and the flexibility as a back hoe attachment suit all on-site conditions.

Rotor Bucket BM07RT 09RT
a construction surplus soil processing plant of 50 or more substance is classified.

BHS60
The the best for foundation improvement construction of the narrow ground (spot 60cm or less).
Super Stabilizer SS130
The rotor of original form realizes exertion and the few work of dust for power with low-speed quantity torque.

BHS2000 Stabilizer
The rotor of original development is combined with the mobility of an oil pressure shovel, improvement depth of 2m is made possible, and easy-izing of work and low cost-ization are realized.

BHS6000 Mega Blender
The medium-rise improvement machine of small area.

Special order manufacture machine
40, kyouei, Kamisato-machi, Kodama-gun, Saitama-ken, 367-0206
A foundation improvement machine design, manufacture, and sale Surface improvement construction contract
Saitama Yaei industrial incorporated company
Head office
240, kyo-ei, Kodama-machi, Honjo-shi,Saitama-ken 367-0206
Construction part office
3167-1,7hongi,Kami-satomachi, Kodama-gun. Saitama-ken, 369-0306
TEL.0495-73-3311
FAX.0495-73-3312